Here are some .gifs that will make you laugh!
Or at the very least make you go "Awww"
Overly Excited Jonghyun is always good for the eyes...
Evil Maknae is always...well...evil....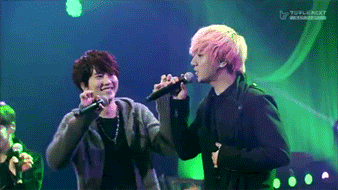 But he always seems to make it back into his friend's good graces
And who could withstand this 'Pretty Man'
Or this one... Dimples + Wink = Ridiculously Cute Siwon
And if you can place this Kdrama scene...kudos to you...
And this guy...
As if Taemin actually struggles with Aegyo...
Crazy Sasaengs be like...
Zhou Mi's best FanGirl Imitation
Yeah there is no question, our K-Idols can't help being funny or cute no matter the situation, it's best to just sit back and wait for them to surprise us...